The classroom-based Elementary Education undergraduate degree at Appalachian
Ready to transform lives inside your classroom and the community?
Whether you're a pre-service or in-service elementary teacher, Appalachian State University's Elementary Education undergraduate degree program offered through App State Online provides a robust combination of academic and field experiences to prepare you to make significant contributions to the field of education.
This flexible program offers full- and part-time options. Successful completion of this Elementary Education undergraduate degree program prepares you for a rewarding new career and leads to North Carolina state licensure in elementary education, teaching grades K-6.
App State Online: Keep your life… Change your future.
More information on Elementary Education
Careers
Elementary school teacher
Tutor
Degree details
Program information
Click for course information
(Note: Not all courses listed may be delivered to App State Online students. Refer curriculum questions to the program contact.)
Full-time option
Some online elements may be integrated
Four-to-five courses per semester, spring and fall
Student teaching is completed during the last semester, full time in a classroom setting
Completion time: 2.5 years
Part-time option
Innovative, accelerated part-time schedule
Courses will be taught via face-to-face and video conferencing
Three courses per semester - two evening courses and one daytime course every other Saturday
Student teaching is completed during the last semester, full time in a classroom setting
Completion time: 3 years
Admission requirements
The following criteria are required for entry. After admission, you may need additional transfer hours. The hours delivered by Appalachian and your transfer hours must equal 120 hours by the end of the program.
Visit our transfer equivalency course search to see how your previous coursework transfers to Appalachian. For your convenience, our Pre-Application Evaluation form (watch our video to learn more) can help you determine if you meet the minimum program entry requirements.
Before entry, applicants who have met Appalachian's General Education requirement – with one of the following math courses: MAT 140, 143, 151, 152, 155, 161, 165, 171, 172, 175, 263, 271, or 272 – will be given admission preference.
Additional courses required for entry
Expository Writing R C 1000 (ENG 111 at a NC community college)
College transferable math (Ex: MAT 140, 143, 151, 152, 155, 161, 165, 171, 172, 175, 263, 271, or 272 at a NC community college)
Program requirements
In addition to the courses delivered by Appalachian, you must complete the following Second Academic Concentrations (SAC) for Elementary Education licensure:
NOTE: May be completed before entry, or by a specified point in the Appalachian program through dual-enrollment.
Join Our Mailing List:
Loading...
Out of State Licensure
Appalachian cannot confirm whether this professional licensure program will meet the requirements for professional licensure outside North Carolina; therefore, prior to enrollment, if you intend to practice in another state, you must determine if this program meets requirements for licensure in your state by contacting your appropriate licensing agencies.
Hear from an Alumnus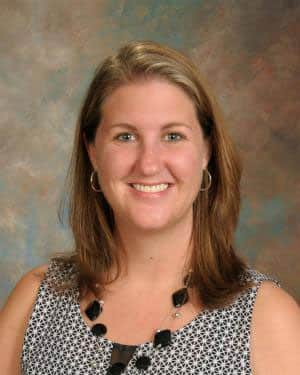 "The education program at Appalachian prepared me to create standards-based lessons that are engaging for my students. It also taught me how to differentiate within those lessons to reach all students. With the diversity of children in my classroom this year, it was very helpful to have had extensive research-based materials to refer back to from my time in the program."
- Katrina O'Donnell '15