The online Bachelor of Science in Child Development - Birth through Kindergarten degree at App State
Become a leader in the classroom, home and community. Learn to provide development and learning opportunities for children and families.
The flexible, online Bachelor of Science in Child Development - Birth through Kindergarten program offered through App State Online connects you with the knowledge and tools to guide today's children from infancy through kindergarten.
The U.S. Department of Labor predicts a 20-23 percent growth in the North Carolina job market for preschool teachers and preschool special education teachers. Now is the time to prepare yourself for a career in the growing child development field.
Through Appalachian's Child Development undergraduate degree program, you will combine academic research with real-world practicum to better facilitate children's success during a pivotal time of discovery, learning and growth. Explore the roles and responsibilities of the birth through kindergarten professional, including ways to foster and engage learning.
Child Development graduates with "A" licensure, which is a dual certification of both regular and special education, are also eligible to pursue graduate degrees in birth through kindergarten, elementary education and middle grades education.
App State Online: Change your future.
More information on Child Development
Interested in learning more?
Join us for an App State Online Information Session.
Careers
Preschool teacher
Kindergarten teacher
Daycare director
Child life specialist
Degree details
Program information
All App State teacher education programs that lead to an initial licensure or a similar credential require multiple student teaching experiences at a North Carolina public school throughout the program, including a full-time internship during the last semester of the program. You will work with the department to select the student teaching location. Learn more.
This program blends synchronous (set meeting times in an online classroom) and asynchronous (with coursework completed on your schedule) courses.
Click for course information
(Not every course listed may be delivered to App State Online students, but you will be offered all courses required for the degree.)
Admission requirements
You may enter this program as a first-year or transfer student.
Program requirements
Professional Licensure
This is a program that can lead to licensure or certification in North Carolina. Appalachian State University cannot confirm whether this program will meet the requirements for professional licensure in other states or territories.
If this applies to you, check the Professional Licensure webpage for information on licensure requirements and licensing agencies in other states. Or, you may address questions to State Authorization at App State at stateauthorization@appstate.edu or 828-262-7559.
Request More Information
Loading...
Hear from an Alumnus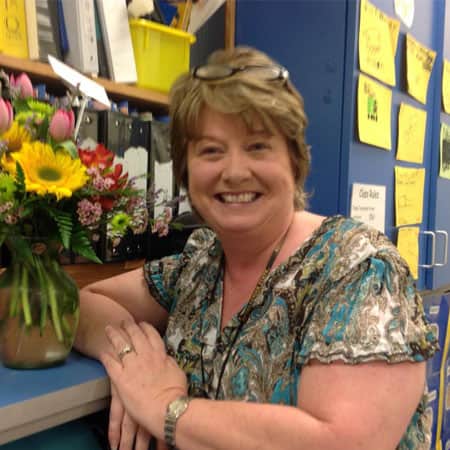 "I wanted more for my students and this was the perfect way to accomplish my goals. It was affordable, convenient, and provided me with an excellent education with professors that truly cared. I have accomplished my goals."
– Vicki Walker