About the App State Online Master of Science in Nursing (MSN)
Expand your nursing knowledge with appalachian state university's flexible online master of science in nursing (msn) program.
App State Online's Master of Science in Nursing (MSN) degree program is designed to train future nursing educators for advanced careers in practical and academic settings.
As a student in the online MSN program at App State, you'll develop a methodological approach to practice, leadership and research. When you graduate, you'll have acquired demonstrable clinical and academic experience and be able to teach using simulation, implement staff development strategies and maximize patient care.
U.S. News and World Report recognized App State's online MSN among the top 44 percent of online MSN programs in the nation in 2023.
More information on App State's online MSN.
Curriculum
The curriculum of App State Online's MSN program spans theories from behavioral, social, applied and nursing science to skills in nursing education such as program development and instructional strategies. You'll reinforce what you learn in online MSN courses (offered once during the duration of the program) by completing 120 clinical practicum hours in any semester and through a research project or thesis.
The online nursing master's program requires a minimum of 39 credit hours. The curriculum includes:
24 credit hours in advanced master's in nursing courses
12 credit hours in nursing education concentration courses
Advanced clinical and nursing education practicum hours
A thesis or research project
The balance of online courses with hands-on application helps strengthen your skills in research, pharmacology, health assessments and educational theories in academic and practice settings in preparation for a career in nursing education and beyond.
Review course information, including course descriptions. Note: Not every course listed may be delivered to App State Online students, but you will be offered all courses required for the degree.
Advanced Clinical and Nursing Education Practicums
Two field education practicums are part of the online nursing master's program. In both clinical and nursing education settings, you will have the opportunity to apply new techniques in assessment, intervention and teaching methods.
What you accomplish during your designated practicum hours demonstrates your professional skills in both nursing management and classroom instruction to any future employer or academic program.
Requirements for the practicum experience include the mandatory App State nursing compliance requirements and may include criminal background checks.
Thesis and Research Project Formats
To complete your online MSN, you'll work to create a thesis or research project.
For the research project option, you'll apply your skills by proposing a question, collecting data and presenting a report of your analysis and findings.
If you choose to complete a thesis, you'll execute a work of original research and defend it. For those interested in applying to a Doctor of Nursing Practice program in the future, producing a work of new scholarship through the thesis option is excellent preparation.
Eligibility and Application Requirements
Students interested in applying to the online MSN program should meet the general criteria for graduate admissions at App State.
Students are eligible to apply if they have:
A Bachelor of Science in Nursing (BSN) degree from an accredited (ACEN or CCNE) college or university OR an accredited associate degree or diploma in nursing with a baccalaureate degree in another field
A minimum undergraduate GPA of 3.5
Completed an undergraduate statistics course (descriptive and inferential statistics) with a grade of C or higher
Completed an undergraduate research course with a grade of C or higher
A current, unrestricted RN license in North Carolina or a state participating in the Nurse Licensure Compact (NLC)
One year of nursing experience before beginning the program
Application requirements include:
Completed online graduate application
Resumé (uploaded as part of the online application)
Official transcripts showing any completed degrees and transcripts showing any coursework completed at institutions other than Appalachian State in the last five years
Application fee
Personal statement including career goals and philosophy of nursing
Three letters of academic or professional reference
Online MSN Career Outcomes in Nursing Education
While nursing master's degrees can open doors to advanced positions in management or practice, App State's MSN program additionally serves to supply those interested in careers in nursing education with the essential knowledge and necessary credentials.
Graduates of the online master's in nursing program have found employment in research and education in clinical or academic settings in roles such as:
Nurse educators
Health educators
Clinical nurse educators
In general, nurse educators work in environments such as colleges, universities or hospital nursing programs. Some nurse educators pursue the Certified Nurse Educator (CNE) credential. While not required to work as a nurse educator, it can help you stand out as a job candidate.
Explore App State's nursing education career information.
Pathway to Professional Licensure
App State programs that lead to a professional licensure or certificate are intended to prepare students for licensure or certification in North Carolina. Check the Professional Licensure webpage for information on licensure requirements in other states.
Learn More About App State Online's MSN Degree Program
If you want further information or have questions about the online master's in nursing program,
Apply to the Online Master of Science in Nursing Program
App State Online's MSN program diversifies the career possibilities of working RNs through a curriculum emphasizing essential skills for professional nursing educators.
Ready to grow your capabilities as a nurse and educator?
Hear from an Alumnus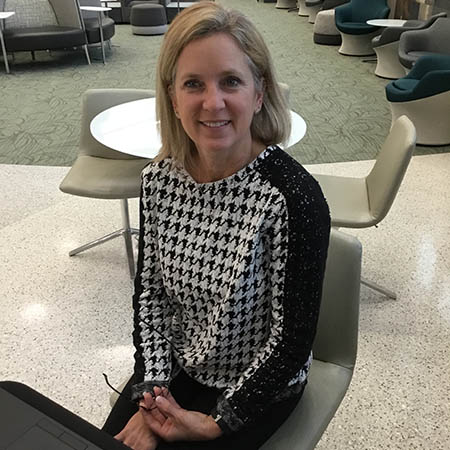 "I really enjoyed the ability to work on assignments remotely or wherever needed, and the cost is so reasonable."
– Amy Johnson '19